Home
»
Seeds for Tomorrow ®
Seeds for Tomorrow ®
Planting the seeds of education today to build the leaders of tomorrow
The seeds we plant today yield food and seeds for tomorrow. This is as true in the world of education as it is in the world of production agriculture. The seeds of knowledge planted today will yield the leaders, entrepreneurs, teachers, professionals and consumers of tomorrow.
Seeds for Tomorrow® is a unique program that will revolutionize funding of Agricultural Educational programs, offered by participating public and private schools, through annual donations based on Galena Genetics seed sales.
We at Galena Genetics have watched as ordinary young people – the children of our customers and our communities – have grown to be extraordinary leaders, positive role models, and exemplary workers through their experiences in Agricultural Education. Students gain knowledge and confidence through hands-on experiences, and are encouraged to persevere as they pursue their passions, by Ag Ed instructors and FFA advisors. The future is bright for those students who find themselves in an agricultural education classroom, but in today's world, those classrooms are becoming fewer and farther between. To help our school districts continue to fund Agricultural Education into the future, Galena Genetics has created Seeds for Tomorrow®.
The concept is simple. Farm producers purchase Galena Genetics Brand seed from an authorized dealer. For each unit of Galena Genetics soybean seed purchased, 50 cents will be donated by Galena Genetics and the authorized dealer to the participating ag program of the producer's choice. Participating schools agree to use the donation to help fund their Agricultural Education program.
As Galena Genetics utilizes the best of conventional and technological breeding practices to offer innovative, outstanding products to our customers, we recognize the need for Agricultural Education students to be exposed to the best of traditional and state-of-the-art educational experiences to assure their success in a demanding world.
Seeds for Tomorrow® demonstrates Galena Genetics' commitment to growing the future of rural America. By investing early in the success of our future leaders, community members, business owners and professionals, we give our communities the opportunity to not only survive, but to prosper. As state, federal and private funding becomes more challenging each year, many schools find themselves asking which programs are important to a student's overall education. We believe that an education in agriculture is vital to our communities' future. Seeds for Tomorrow® gives each school the opportunity to grow their Agricultural Education program: a program that advocates not only careers in the industry, but an awareness of the world around them.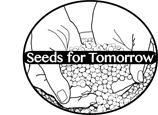 Galena Genetics believes strongly in the ability of quality Agricultural Education to provide for a bright future for our communities' young people, regardless of the career path they choose. We stand behind that commitment by investing in every community we serve. Just like the seeds we plant and nurture each year, Seeds for Tomorrow® will grow and equip students for success for generations to come.